*Animation
Pop-up book themed animation produced for Luton Community Housing to present their Annual Report. A mixture of animation styles in here, from 3D, 2D and handdrawn characters and animation.
---
Commissioned by Peatree Productions to create the animation for an infographic explainer for the Asset Owners Disclosure Project (AODP) index of the top 500 global asset owners. No audio, unfortunately on my copy of the animation.
---
An animation produced for a client in January 2015. The client appears in a modern city and slowly goes back in time to see the changes through it's long history.
My client didn't want any audio on delivery so I've added some with the help of the following users from Freesound:
Tigersound, freqman, erh, edifield, juskiddink, maj061785, sorohanro, dj-chronos, stereostereo, beatsbycasper, klanbeeld, robinhood76, swiftoid, owl, johnnyfarmer, rsilverira-88, jarredgibb, dheming, kyster_, opticreep and speedygonzo.
Special thanks for the main score to Kevin MacLeod from incompetech.com – highly recommended for free music
---
Commissioned to describe the proportional representation system for the Greens at the 2014 European elections. Modelled and animated in Blender.
---
Contracted by Manchester based
Centrescreen Productions
 to produce a series of animations for a guided tour app for the reopening of the Rijksmuseum, Amsterdam.
Using items and high resolution scans of art work, including access to Rembrant sketches for one of his most famous works; Der Staalmeesters, this series of animations was created as part of an interactive tour guide app for visitors to the refurbished Rijksmuseum, Amsterdam.
Click for a more detailed look at each of the animations.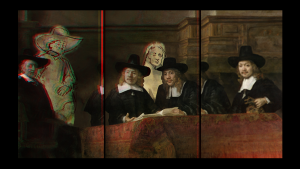 ---
This animation, commissioned by consumer engagement company Mediabounty and featuring the voice of Chris Packham, was produced for Velvet to highlight their partnership with Amata and their "Three Trees Challenge" has had over 66,000 views on the Velvet youtube channel.
---
Genre video created for a musician's showreel. Backgrounds are 3D in Blender with handdrawn animation comped into the scenes. Never did receive any audio for it…
---
One of two explainer animations created for LessUK on how to reduce drafts in the home.It has a cute doggie in it. Voiceover by Kathy New SFX via Freesound